Ancient Lake Bandung
is an ancient prehistoric lake that occupied the Bandung Basin. It was created about 6,000 years ago due to eruption of Ancient Mount Sunda which blocked the flow of Ancient Citarum River and created a lake.
The current Bandung City is located in this Bandung basin and surrounded by mountains such as Mount Tangkuban Perahu, Mount Burangrang and Mount Bukit Tunggul.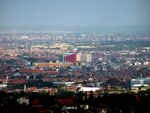 This lake is one of the subjects in folktale
The Legend of Sangkuriang
in which the lake was created by
Sangkuriang
due to
Dayang Sumbi
's request but eventually he dried it again due to his anger because of her trick to make dawn came before its time in order to prevent their marriage.
Ad blocker interference detected!
Wikia is a free-to-use site that makes money from advertising. We have a modified experience for viewers using ad blockers

Wikia is not accessible if you've made further modifications. Remove the custom ad blocker rule(s) and the page will load as expected.