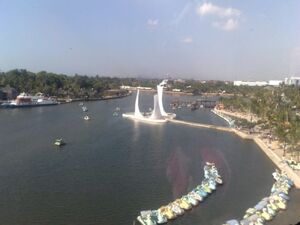 Ancol
is an Administrative Village (Kelurahan) in Pademangan Subdistrict, North Jakarta, the capital city of Indonesia. It is located in the coastal lowland of Jakarta. Taman Impian Jaya Ancol or Ancol Dreamland
,
the largest integrated tourism area in South East Asia, is located in Ancol. Dunia Fantasi or Fantasy World, shortened as Dufan, Jakarta's own theme park with over 30 rides and attractions is a part of Taman Impian Jaya Ancol
.
Other attractions in Taman Impian Jaya Ancol includes Pasar Seni or Art Market which is a center for handicrafts and art products, a golf course and a bowling center, beaches, Ocean Dream Samudra which is an oceanic animal show, a water park called Atlantis Water Adventure, an oceanarium called SeaWorld which is the largest in South East Asia, an eco park and an ocean eco park.
A bridge in Ancol bay is associated with a famous urban legend The Sweet Maiden of Ancol Bridge, a tragic story about Ariah, a local girl who was killed and dumped near the bridge in the 19th century.
Ad blocker interference detected!
Wikia is a free-to-use site that makes money from advertising. We have a modified experience for viewers using ad blockers

Wikia is not accessible if you've made further modifications. Remove the custom ad blocker rule(s) and the page will load as expected.