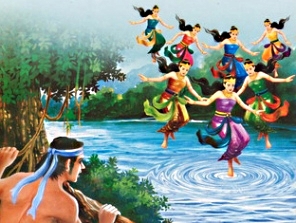 Jaka Tarub
is the main character of the story
Jaka Tarub and Seven Apsaras
. He was asocciated with the Kingdom of
Mataram
(1588—1681) in Central Java through Nawangsari, his daughter with
Nawang Wulan
, who, in the story, was said to be one of the seven
apsaras
. He tricked Nawang Wulan into marrying him.
Nawangsih was later married to Lembu Peteng, the son of Brawijaya (born: unknown - death: 1478), king of of the Kingdom of Majapahit (1293–1500), and gave birth to a boy who would later known as Ki Getas Pandawa, who had a son, Ki Ageng Sela, who was the great grandfather of Panembahan Senapati, founder of the Kingdom of Mataram.
Ad blocker interference detected!
Wikia is a free-to-use site that makes money from advertising. We have a modified experience for viewers using ad blockers

Wikia is not accessible if you've made further modifications. Remove the custom ad blocker rule(s) and the page will load as expected.