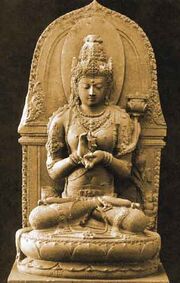 Tunggul Ametung
was the chief of Tumapel area, East Java, Indonesia, which, at the time, was a part of the Kingdom of Kediri under the reign of King Kertajaya (1185 - 1222). He was famous for being the first victim of the cursed
keris
of Mpu Gandring. One of his bodyguard,
Ken Arok
, killed him with the keris, after he accidentally saw his beautiful wife,
Ken Dedes
, and fell in love with her. The story of his death is featured in
The Legend of the Keris of Mpu Gandring
.
Ad blocker interference detected!
Wikia is a free-to-use site that makes money from advertising. We have a modified experience for viewers using ad blockers

Wikia is not accessible if you've made further modifications. Remove the custom ad blocker rule(s) and the page will load as expected.